All sharpening is by appointment only
Irish Eddie® is a leading professional knife sharpener and scissor sharpener in South Florida.
Irish Eddie® sharpens kitchen knives, household knives, chef knives, fillet knives, serrated knives, tactical knives, hunting knives, pocket knives, fishing knives, scissors, shears, clipper blades, butcher's cleavers, tomahawks, axes, hand chisels, circular saw blades and garden tools. Don't see your item here? Contact him!
From broken tips to chipped blades, most damaged knives can be repaired. Don't dispose of something that can be brought back to life.
Contact Irish Eddie® and see what personalized service can be.
Have an Irish Eddie®
Sharpening Experience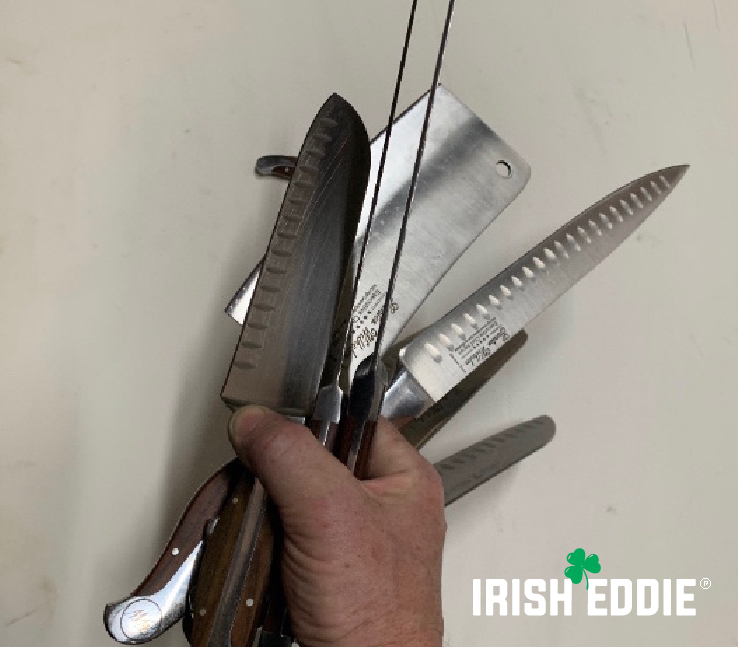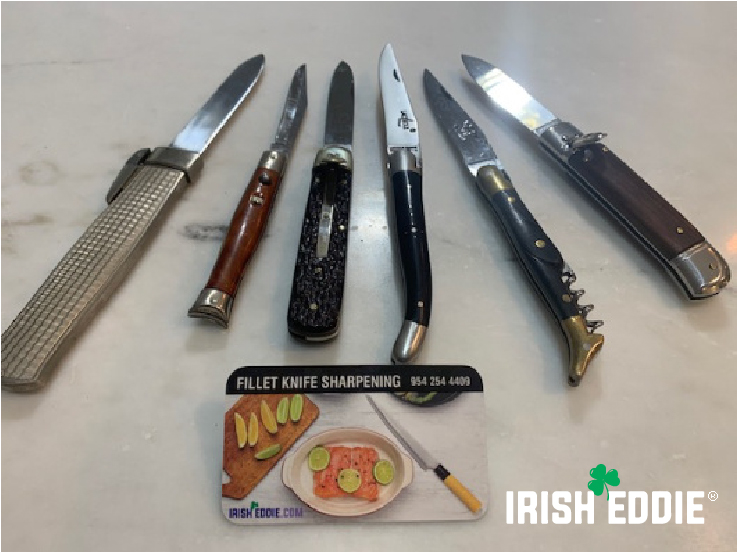 "Great Experience with Eddie! For Christmas, my wife surprised me with a limited edition set of Wustof Chef's knives and I "nicked" one the other day. I called the distributor in Spain and asked him what to do to repair the knife. He recommended Eddie and said he is the best in the US at this craft! Eddie did NOT disappoint! The blade is razor sharp!!! If you are in need of your blades to be sharpened and want the best in quality and service, then go to IrishEddie!."
- Mitchell S.
"Irish Eddie sharpened 5 old knives that I loved, but did not enjoy using because they were so dull. His service was terrific and my old knives are now NEW! I used a couple last night during meal prep, and OMG, they are super sharp. I was able to easily cut through butternut squash and acorn squash. I would highly recommend Irish Eddie's knife sharpening services, especially if you enjoy cooking."
- Stephanie R.
"I brought my knives to Irish Eddie for a good sharpening. He not only made them like razors, he spent some time sharpening my understanding of what makes a good self defense knife and the proper technique for each of my blades based on their design. He is a wealth of real world knowledge, a master of his craft and a consummate gentleman. Thank you mate."
- Scott K.
"Irish Eddie is charming, knowledgeable, highly skilled and reasonably priced. I don't know what more anyone could ask for. I was ready to recommend him based on conversation alone! I doubt you've ever met a more interesting person. But, I digress. His knife sharpening skills are unmatched. I would have given him 10 stars!"
- Traci S.
"Just went to see Eddie today to get my knife sharpened, and I could not be happier with the results. First off Eddie is an awesome guy! Super knowledgeable about his craft and you can see how much pride he takes in his work. High quality, efficient, and pricing is beyond fair. He had my OTF blade sharpened in 15 minutes and took it from so dull that I couldn't cut a plastic bag, to slicing paper into ribbons. It's sharper than when I bought it, actually this is the sharpest this knife has ever been! If you want the job done right, bring it to Eddie. I promise you will not be disappointed!"
- Christian G.